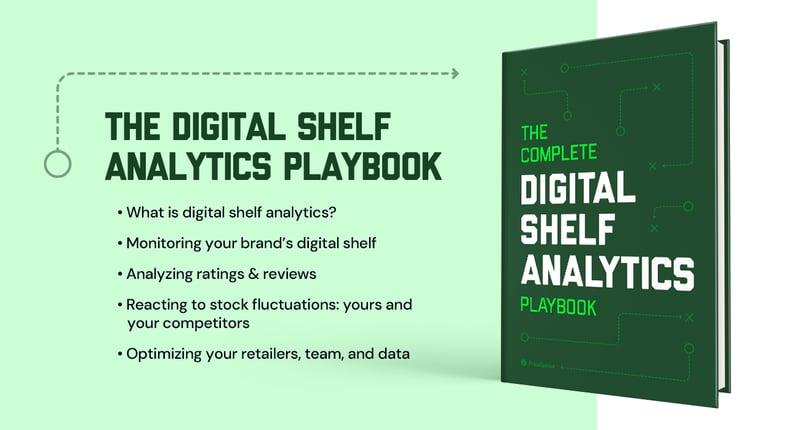 What This Resource Is All About
Winning the digital shelf means consumers find your products first and choose your brand more. But getting there depends on numerous factors that require continuous maintenance and attention.
That's where digital shelf analytics comes in.
In this playbook, we break down:
The fundamentals: What is digital shelf analytics?

Quarterbacking your digital shelf

Analyzing the digital shelf: Read-and-react

When stock changes, call an audible

Optimize your big three: retailers, team, and data
Once you've read this playbook cover to cover, you'll have a clear understanding of what it takes to win the digital shelf.
The fundamentals: What is digital shelf analytics?
Digital shelf analytics is the actionable data you get from monitoring your product pages in relation to your competitors, your brand guidelines, and your customer experiences. This isn't a passive process where you simply track metrics. Effective digital shelf analytics helps a brand monitor key data points in order to optimize.
On the digital shelf, just like in brick-and-mortar stores, your brand should pay attention to the four P's:
1. Product — Ensure that you're presenting your products in the best possible light
2. Pricing — Make your pricing "worth it" to the consumer and consistent across all stores
3. Placement — Put your products in the best position for high-value search queries
4. Promotion — Invest in promotions that matter most for your category based on what's happening on the digital shelf
Digital shelf analytics is your eyes and ears in the busy world of ecommerce, giving you the intel you need to make smart decisions and adjustments. The trick, of course, is determining what your "eyes and ears" should pay attention to.
Ready to dive in? Download your free digital shelf analytics playbook now.